ADSL Reconnector
Synopsis
ADSL Reconnector is a Windows application developed for monitoring your Belgacom Turbloline© ADSL connection.

Its features include:
Forcing a reconnection to your ADSL provider
Periodic line checking. The ADSL connection is checked every X seconds, and if a disconnection is detected, the line is automatically re-connected.
Command line switches allow you to call the application through Windows' Scheduler.
Full logging allows you to trace line activity (disconnections, reconnections, etc)
Remote TCP/IP administration allows you to check your line's status from any computer on your local network, and to force a reconnection from remote.
Fully configurable: time-outs, hosts to PING for line status, logging level, etc.
System requirements
Belgacom's TurboLine ADSL service.
Windows 2000 host with RAS 1222 ADSL RAS manager software (other platforms to be tested).
TCP enabled network for remote administration.
Current development status
As of 12th june 2000, the application has entered beta-testing for the features explained above.

Future versions will include more features, as you request them.
Beta testers wanted !
If you'd like to test-drive this application, please send a mail to with a subject containing "ADSL Reconnector", and specifying:
Your computer setup (hardware and software, plus versions)
Your networking knowledge (beginner, intermediate, advanced)
Do you have programming skills? (VB, VC++)
Why would you like to test-drive this application? (A few lines)
Do you have website development skills? (PHP, mySQL, HTML, JavaScript, etc)
I will not answer any mail that do not contain all of the information above!

Once again, for those who don't read everything:

I will not answer any mail that do not contain all of the information above!

Thanks !
Screenshots
The ADSL Reconnector remote client showing line status and the "Force reconnect" menu itme.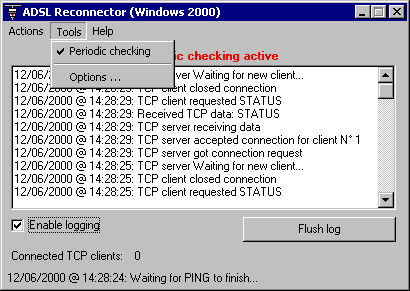 The ADSL Reconnector server application, showing line and TCP activity.
Hits to this page: 1306